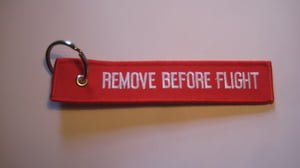 £

4.99
Our very popular Remove Before Flight Keyrings, attach these to the keys for whatever you won that goes fast!
perfect for the keys for your Hot Rod, Race Car, Chopper, Jet Ski or even Aeroplane!
Very popular accessory, these are even used on carb covers and parachutes on drag race cars, you could even use one of them for your house keys!
5.5" x 1" heavy woven and embroidered
Free delivery in the UK & Europe